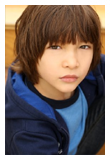 Teo Briones played Timmy Bernardi on Days of Our Lives. This year he has been seen in episodes of Longmire, The Whispers, and to keep up to date make sure to visit his website, follow him on Twitter, and follow him on Instagram.
1. How did you enjoy shooting for Reebok?
It was fun, the people were nice, I enjoyed it. Unfortunately I am a terrible soccer player, but it was still fun!
2. What was your time on set like filming Longmire?
Lou Diamond Phillips was terrific. I learned so much from acting with him and just watching him. It is really awesome that he is part Filipino like me! Also my parents and he have a lot of mutual fiends because he has done musicals on Broadway and that is what my parents do. It was very cool to meet the original Robocop, Peter Weller, he directed the episode! The people playing my parents were really nice and great to work with.
3. What was the best part of filming for Funny or Die?
That was a not planned because Clayton, the writer/director is a friend of my mom's and he needed a place to film at the last minute, so we said come on over and they had me jump in. It was a fun day for everybody. A lot of silliness.
4. Who was your favorite person to work with on Pretty Little Liars?
Ian Harding. Such a cool guy and a good role model.
5. What was your time on set like filming The Whispers?
COLD! but fun. A few scenes were outside, and a night in the rain. Lily Rabe was so cool to work with. We even made a funny video together while we were waiting to shoot one night.
6. How did you enjoy traveling to Vancouver to work on the series?
It was fun because I have never been to Vancouver before. It is a beautiful city and we stayed in a really nice hotel. When I had off time my mom and I did a lot of exploring. We went to Stanley Park zoo and saw a lot of the city. I went back up twice because I did 2 episodes.
7. What was the experience like working with so many other kids on the same scenes?
I am not used to working with other kids so much, usually my jobs have been with adults. It was different and a pretty cool experience. The big group scene was kind of chaotic, and honestly I felt a little uncomfortable pushing a girl, I am not like that. Though even in this show most of my scenes were with adults too.
8. What was one of the funniest things to happen on set or behind the scenes?
Definitely the video Lily and I made. It was really goofy and we were laughing a lot.
9. Did you ever wonder if your character was going to be Drill?
In the beginning I wasn't sure because I didn't know I was doing 2 episodes and it wasn't clear in the first episode I did who drill was. But then once I got the script to the second episode I knew I was not Drill.
10. What else have you been up to this year?
I have been spending a lot of time in London. My father is working there. He has been there for the past 2 years, but will be coming home in February. So I have been spending about 6 months of each year there. It has been cutting down my work time but it is important to be with my dad.
We'd like to thank Teo for participating in this year's Holiday Q&A Event!