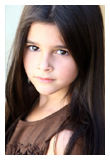 Lauren Boles played the role of Ciara Brady on Days of Our Lives. This year she wrapped up her time on the show and kept busy with events for the show's 50th anniversary. To keep up to date make sure to follow her on Instagram!
1. What was the coolest part of attending the Days 50th Anniversary book signing?
My favorite part of the 50th Anniversary book signing was surprising the fans waiting in line that didn't know I was going to be there!
2. How did you enjoy working with Bill and Susan Hayes?
Bill and Susan Hayes were always so joyful and positive. You get a great vibe just being around them.
3. Is there anyone on the show you never got a chance to work with and would have liked to?
I would have liked to have some scenes or a storyline with Jen Lilley and Eric Martsolf. They treat me like an adult, which is very sweet of them.
4. What was it like attending the Days of Our Lives 50th Anniversary celebration?
On the red carpet, I was interviewed and signed more fan's books. I met the new Ciara and we ended up wearing an almost identical black and red dress, without even knowing ahead of time!
5. How did it feel to see everyone again?
Seeing many of the actors and actresses sing and dance on the stage was very entertaining. It was hard to know that I wouldn't see a lot of them again.
6. Do you have a favorite episode you filmed this year?
I've always enjoyed being smart, sassy Ciara so my favorite episode this year was when Hope told Ciara about Aiden proposing.
7. What was your last day on set like?
I didn't know my last day was going to be my last day. The writers hadn't made the final decision about aging the kids. So I didn't get the chance to say goodbye to everyone that day.
8. Do you still talk with anyone from Days?
I stay in touch with Days actors through Instagram and I even text my old hairstylist Margie sometimes!
9. Any plans or projects post-DAYS? You're very much missed on the show!
I just got new headshots and I'm going to start going out on auditions during pilot season.
10. What has been your favorite scene(s) to film throughout all of your years as Ciara?
I can't really choose a favorite episode, but I can choose a favorite storyline. Even though it was a long time ago, I remember getting kidnapped. The actors who had to torture me felt bad after the scenes, so they would give me candy!
We'd like to thank Lauren for participating in this year's Holiday Q&A Event!