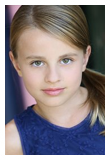 Isabella Cuda worked on an episode of Days of Our Lives, and this year has been seen on the Nickelodeon Kids' Choice Sports 2015, in a commercial for Walmart, and more! To keep up to date make sure to follow her on Twitter and Instagram.
1. What was the experience like taking part in the Nickelodeon Kids' Choice Sports Awards?
It was so much fun, I played tug of war with Marshawn Lynch from the Seattle Seahawks. He is really nice.
2. What was your time on set like filming Love at the Christmas Table?
It was fun to shoot a Christmas scene in the summer and everyone was super nice.
3. How did you enjoy filming your Time Warner cable commercial?
It was great, we shot a scene at London Heathrow Airport (well not really) it is airing now!
4. What was it like seeing it air on TV for the first time?
I screamed I was so excited!
5. What was the best part of shooting your Schubach Aviation ad?
The best part was that I got to shoot the ad with my real daddy and a pretend little sister.
6. Do you have a favorite part of working on Gene Simmons Family Jewels?
It was one of my first jobs ever, I was a little scared to meet Gene Simmons because he looks a little scary with his KISS make up but he was super nice and he has a beautiful house.
7. How did you like filming for Glee?
It was awesome, everyone on set took pictures with me. I'm sad Cory died, he was really nice and asked to play with my stuffed animal.
8. What was your time on set like working on Sam & Cat?
Soooo much fun, I love Ariana Grande. She let me sit on her lap during breaks and was super sweet! I'll never forget how nice she was.
9. Who have been some of your favorite people to work with this year?
This year I really enjoyed working with Russell Wilson and Marshawn Lynch from the Seahawks. I cheer them on when they play unless they play the Chargers.
10. Is there anything you can share about your role in Eternal Salvation?
The movie will be released in March and it is a beautiful spiritual feel good movie. I play the daughter and my daddy has some health problems and it turns our lives upside down. I'm looking forward to the movie premier 🙂
Is there anything else you would like to add?
This week I'm shooting a co-star role for Criminal Minds. It's going to be awesome!!!!
I'm thankful for my mom and dad who are so supportive. I'd like to thank my manager Annet McCroskey and my agent Jackie Lewis for believing in me. My 5th grade teacher Mr. Phinney is awesome and very supportive. I love my cat Graycie.
I'm wishing everyone a happy holiday season and a happy and peaceful new year.
We'd like to thank Isabella for participating in this year's Holiday Q&A Event!
(Image by Kenneth Dolin)