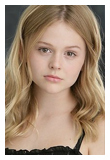 Emily Alyn Lind played the role of Emma Lavery on All My Children and also did an episode of Days of Our Lives. This year she has been seen in the film Hidden, on Code Black, and on the final season of Revenge. To keep up to date make sure to follow her on Twitter and Instagram!
1. What was your favorite part about working on your film Hidden?
I loved shooting a movie with so much action and suspense – It was amazing doing all the stunts and creating tension from scene to scene. I would see a movie like Hidden, so it was even better being in it.
2. What was it like working with Alexander Skarsgard?
I really liked Alexander – he was unassuming, sweet and caring and such a good actor. He added so much intensity to every scene, whether it was action, or just an emotional two person scene. I hope I get to work with him again.
3. How do you prepare yourself for emotional scenes?
I just put myself in the shoes of the character – "This is how she would react in this situation" – I guess it's as easy as that. I've always had an easy time blocking out the rest of the world, and imagining I'm somewhere else. That's really what acting is.
4. What was it like working on Code Black?
The cast and crew of Code Black were awesome. I loved the script and really liked that the whole show is based on an actual hospital (which is where the show was shot) – I'm glad the show was picked up and hope they have a long run with it – they all deserve it.
5. How did you enjoy working with Marcia Gay Harden?
Marcia was like a friend and a mom. She made me laugh and told me stories, but she was so professional and protective. I loved watching her work – she puts her different spins on every take.
6. What was it like working with Katherine Hiegel in Jackie & Ryan?
Katherine was, well…beautiful! But she was also like a mom on set – she was caring with the whole crew. I felt really connected to her – And I loved how the movie came out – I thought Ben Barnes was amazing.
7. What was your favorite episode to work on for Revenge?
I liked when the writers started to write young Amanda with more edge. My favorite episode was when I was in the correctional institute and the therapist was trying to brainwash me, then locked me in a room. I like going to places I normally don't go in my real life – the scarier and more intense, the better.
8. Do you see any old castmates from previous shows?
My sister Natalie plays David Mazouz's love interest on Batman – He played my love interest in Dear Dumb Diary. So when I go to New York to visit her, we all hang out together. Pretty cool.
9. What is the best part of acting and what was your favorite job so far?
I love to travel with my work – whenever one of us books a job, our first question is, "Where does it shoot?" – I just love the whole feeling of being on set – getting up before the sun comes up – hanging out with other actors…all of it.
10. Can you tell us anything about your upcoming movie The Babysitters?
I am shooting a dark comedy, The Babysitter, directed by McG. It's definitely my favorite genre – the kind of movie I would go to see – so I'm excited to be in it. It's probably the most fun set I've ever been on – McG is the best. He knows how to make people laugh, while getting the work done. It doesn't feel like work at all.
We'd like to thank Emily for participating in this year's Holiday Q&A Event!