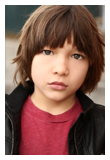 Teo Briones played Timmy on Days of Our Lives. This year he's been seen on Stalker and been busy working on an upcoming ABC series! To keep up to date make sure to visit his official website and follow him on Twitter.
1. What was the experience like filming Disorganized Zone?
It was fun for me because I was able to use my karate skills. Also the director is a friend of the family and I have known her for a long time and she is very nice. It was a really relaxed atmosphere.
2. Do you have a favorite episode you've done for Pretty Little Liars?
The one where I was at the fair and watching the clown show. I liked the idea of my character being kidnapped and not knowing. But, I really loved working with Ian Harding on the first episode I did. I wish I had gotten to work with him more.
3. What was it like shooting for Lucky Brand?
I always like doing print shoots. They are easy and fun. You get to try on clothes that you wouldn't normally wear so it is kind of like acting in a way. You are putting on a personality. I got to wear glasses too, which I liked.
4. What was your time on set like shooting your episode of Death Valley?
It was fun because we got to see an explosion and the zombies were funny.
5. How did you enjoy filming your Kibbles & Bits commercial?
Honestly I don't remember it much, I was so young. I think it might have been my second job, it was my first commercial, and it never even aired!
6. What was it like working on Parks and Recreation?
That was a lot of fun! Everyone was so nice.
7. How did you enjoy working with Chris Pratt?
He was so funny and great to work with. Every time we did a take he would improv and say something different and it was always funny. I remember my mom said that she couldn't believe that I was able to keep a straight face. She was really trying hard not to make noises while laughing during takes because he was so funny. He was really friendly off camera too.
8. What was the experience like filming Stalker?
That was really awesome. I got to meet Dylan McDermott and Maggie Q who are both very nice, though I did not get to do any scenes with them. The people who played my mom and dad were really great to work with and super nice people. I got to be in an explosion too! It was such a cool experience.
9. If you could work on any type of project with your family what would it be?
We are all pretty funny, and our lives are totally crazy as it is, so we could probably do a sitcom about our lives! But working on a film together would be awesome too.
10. What has been your favorite project to work on this year?
I think I would have to say Stalker because it was such a great all around experience.
Is there anything else you would like to add?
Right now I am working on a small recurring role on "The Whispers" a 1-hour drama for ABC which will hopefully start airing early 2015. I have been going back and forth to Vancouver the past couple of weeks and that has been cool. It is nice to see another city and meet other kids that are in the business, since it is a show a lot of kids are involved in.
We'd like to thank Teo for participating in this year's Holiday Q&A Event!