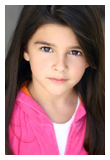 Lauren Boles has played Ciara Brady on Days of Our Lives for several years now. To keep up to date, make sure to check out Lauren's official website or keep checking back here.
1. How did you enjoy attending the Stars Strike Out Child Abuse event?
First of all I was so excited to be invited by Jen Lilley and I was very happy for her when lots of fans came to support her. I loved bowling and getting to know the fans.
2. How do you prepare for an audition?
When I get a call for an audition I like to highlight my lines and actions so when I'm practicing I can easily see what I need to do and when I do it. When I walk into an audition I always smile nice and big and say hello.
3. What is it like working with Daniel Cosgrove?
Daniel Cosgrove is such a goofball on set, in hair and makeup room, and in any dressing room. Even though on camera he is mature and serious when the scene is over he'll take any chance he can get to crack a joke.
4. How do you enjoy working with Connor Kalopsis?
Connor and I have become good friends since he began on Days. We hang out in our dressing rooms, follow each other on Instagram, and are silly on set.
5. How did you like filming the scenes between Ciara and Sami over the earring?
The scenes with Ciara and Sami were very interesting. It was the first time we saw a little evil in Ciara. I had never done a storyline like this ever so I got to experiment with emotions. I loved getting "mad" at Alison and becoming aggressive with her.
6. Are there any newer cast members to the show you hope to get a chance to work with?
Actually I would love to work with Molly Burnett who just came back on the show. I don't remember ever taping a scene with just the two of us.
7. How fun was it working with Carolyn and Campbell and fighting with them over telling Ciara's secrets?
It was something I had never done before with Campbell and Carolyn. Ciara has her secrets and secrets should be kept, so I understood why Ciara made a big deal about it.
8. How did you enjoy being in Jen and Meredith's Days rap video?
Being on Jen and Meredith's rap video was such a experience. The real story was I was walking to the pub to get ready to shoot a scene when Jen yelled, "Lauren! Come here! We need you!" I ended up dancing on a table with them. It was a lot of fun to be a part of that video.
9. What has been the most challenging part of playing Ciara?
Probably one of the most challenging parts of playing Ciara was transferring from being a sweet, nice, little girl to a sassy, bratty preteen.
10. What has been your favorite scene to film for Days this year?
I loved getting several beautiful earrings from Barrons that Sami bought for me. I got to try some of them on that I liked.
Is there anything else you'd like to add?
I'm very excited for all the fans to see new Haiden scenes with me, Connor, Kristian, and Daniel. We have some pretty amazing story lines to show you!
We'd like to thank Lauren for participating in this year's Holiday Q&A Event!