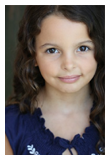 Kayla Madison played the role of Lila Rae Quartermaine on GH and appeared on Parenthood. This year she's been seen on The League as well as in her recurring role of Tessa on Master's of Sex. To keep up to date make sure to keep checking back here at the site.
1. How did you get started in the industry?
I was a very smiley happy baby and my mom decided to put me into modeling at 8 months old, then years later at the age of 5 I started acting classes and started working as an actress.
2. What was it like filming General Hospital?
It was a great experience to play the role of Lila Rae Quartermaine and work with all the fabulous actors and be a part of a show with so much history.
3. How did you enjoy working with Robin Christopher (Skye)?
Robin Christopher was a lovely lady. She is a great actress and she made me feel like I was really her daughter on set, so it made my job easy.
4. Do you prefer TV or commercials, and why?
I truly like both. Working on T.V. Shows, I get to spend more time working and building friendships with other actors. Commercials are fun too! I get to play different characters and do different things for each job.
5. What was your time on set like filming your Chick-Fil-A commercial?
I got to work with a cute 3 year old cow on The Chick Fil A commercial and it was fun to dress him up with a boa and hat even though he was a boy, super funny!
6. How did you enjoy working with Sara Ramirez (Callie) on Grey's Anatomy?
Grey's Anatomy was one of my favorites. I got to work with the cutest twin boys, drive a golf cart through the lot with Sandra Oh. Sara Ramirez was so fun to work with, she is super sweet. I made her pictures and she gave me cookies.
7. What was the experience like working on The Vampire Diaries?
Working on The Vampire Diaries was exciting! My mom and I flew to Atlanta Georgia and stayed in a nice hotel. We had a few days off so we spent our time with Stephanie who was my set teacher. She made my experience on set a lot of fun too! I got to play the role of young Elena Gilbert. It was very exciting to walk through all the sets they had built for this show. They even made a fake forest that looked so real.
8. What is the best part about being a recurring cast member on Masters of Sex?
Masters of Sex for the past 2 seasons has been the most exciting job and the best part of my career. Playing the role of Tessa Johnson has been very easy because the character is exactly like me so I got to be myself, plus I love the wardrobe, definitely my style. The best part of all is working with Cole Sand who plays my brother on the show. We have so much fun together and he has become one of my best friends.
9. Who have been some of your favorite people to work with?
It's hard for me to say who was my favorite actor to work with because I love everybody equally.
10. What has been your favorite project to work on so far?
My favorite project that I have worked on recently is a T.V. movie called " Win, Loose or Love". I worked on this movie for 3 1/2 weeks. I got to play the lead as Emma Kramer who was a soccer player. I learned a new sport that was lots of fun to play. I met some great friends and I still keep in touch and hang out with a dear friend, his name is Griffin Kunitz. We really liked working together!
We'd like to thank Kayla for participating in this year's Holiday Q&A Event!