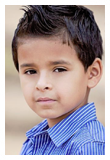 Gabriel Maddox Maier appeared in an episode of The Young and the Restless last year. This year he has been busy working for Banzai, Petsmart, and his Ford commercial is currently airing! To keep up to date make sure to like his page on Facebook.
1. What was your time on set like filming your Petsmart commercial?
I loved working on my Petsmart commercial. I got to shoot two different spots. And I loved working with my co-star. He was nice and fluffy!
2. How did you feel seeing it on TV for the first time?
I couldn't believe that was me on the TV. Kinda embarrassed but proud the same time.
3. What is the best part about getting to work for the Disney Store?
When we filmed that spot, we filmed it in an actual Disney store and I got to play with a lot of the toys in there. Absolute best part of that job? They gave me so many toys and t-shirts. Really great!
4. What was your day on set like filming The Young and the Restless?
When I was on Y&R, it was a totally different experience. It was so quick, very fast paced. I had to learn blocking and it was only one or two takes.
5. How did you enjoy shooting for Banzai?
Banzai was super fun! We got to play on huge water slides all day. What a life!
6. What was the experience like working on A Place Called Hollywood?
On the set if A Place Called Hollywood, I got to work with some of my actor friends. It was a laid back vibe.
7. What was it like working with director Gregori J. Martin?
The director was super cool to work with.
8. How did you like shooting your commercial for Hershey's?
Shooting Hershey's was very challenging for me. I was a last minute replacement and got my script (entirely in Spanish) the night before. I worked with an awesome cast that helped me through that shoot.
9. Who have been some of your favorite people to work with?
One of my favorite was director Stacey Peralta, who shot my Ford spot this year. We talked a lot about skateboarding
10. What has been your favorite project to work on so far?
I love working on the McDonalds spot. I made so many new friends and it was such a big production. And the best part of all…I got to see myself on TV!!
We'd like to thank Gabriel for participating in this year's Holiday Q&A Event!
(Image by Nicole Benitez)