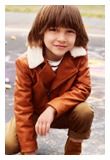 Teo Briones played the role of Timmy Bernardi on Days of Our Lives. He's been seen on Pretty Little Liars, Modern Family, and has done print jobs for big name companies including H&M and Stride Rite! To keep up to date make sure to visit his official website and follow him on Twitter!
1. How did you get started in the industry?
My parents and sister are all actors. When I was little (2 years old) we moved to LA and I was always in the car with them driving to auditions. Then I started saying "When am I going to auditions?" My dad and sister's manager had been saying for ages I should get in the business but my mom and dad wanted to wait until I was older. When I was five I went on my first audition and I landed a pilot for CBS (actually with my sister!) I have been doing it ever since, and I love it.
2. What is it like doing voice over work for Doc McStuffins?
FUN! I had done some ADR work from the CBS pilot, and I also did an episode of Special Agent Oso, but that was my only experience in the studio aside from auditions. Everyone over at the studio was really nice. Even though I did it so long ago it only just came out last month. It is very funny seeing an animation with your voice coming out of it!
3. Do you have a favorite H&M shoot you've done?
I have done many, but my favorite was probably the one that has the video. Unfortunately I cannot be involved in any that have videos anymore because I am SAG-AFTRA.
4. What is the best part about working on Pretty Little Liars?
THE PEOPLE! Everyone is so nice! The directors, crew, actors…everybody!
5. What is it like working with Lucy Hale?
She is SO AWESOME. She is nice, really cool and very approachable. She makes YOU feel special on set.
6. How have you enjoyed working on Days of Our Lives?
It was fun. It is a very different kind of set. Everything goes so fast. It is done in 2 takes most of the time so it moves really quickly. Soap actors are really talented to be able to learn all of that material so quickly and just do it day after day in such a short amount of time.
7. What was your favorite part about working with Terrell Ransom Jr.?
I only met him once, but he was very friendly.
8. What was your shoot for Modern Family like?
It was so much fun! The amazing Bryan Cranston directed! and he was really nice, always smiling. They had the whole mall decorated like it was Christmas which was so funny because it was Halloween. I was hoping to get home in time to trick or treat (I did). Ariel Winter and Sarah Hyland were in my scene and they were so nice to me. Though it was a very small part I really enjoyed myself.
9. Who have been some of your favorite people to work with?
So many people I can't even name! I have to say though…Ian Harding was so great I really wish I had been able to work with him more. It is nice to work closely with a guy I look up to as role model in the business. It always seems I am doing scenes with girls! Speaking of role models…of course Bryan Cranston…what an amazing actor! comedy, drama, and directing! I really loved working with Mia Maestro who was my mom in the pilot I did, and I recently did a short film with Bailey Michelle Brown from See Dad Run and that was fun. But of course my favorite was working with my big sister, because she is one of my favorite people in the world. We have done 2 projects together, a pilot and a film.
10. What has been your favorite project to work on?
I guess I would have to say Pretty Little Liars because I got to do so many episodes, but Parks and Recreation was a lot of fun and so was Modern Family and Cutthroat (CBS pilot) as well as Lonely Boy (film)
Is there anything else you would like to add?
I guess I would just like to add that I can't wait to be able to work with my sister Isa again. Like I said we have done a pilot and a film together so far. We sometimes audition for brother/sister roles and hopefully we will get another one someday because she is amazing!
We'd like to thank Teo for participating in this year's Holiday Q&A Event!