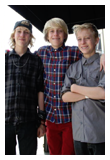 Spencer, Garrett and Mitchell played the role of Zack on Days Of Our Lives and also played the roles of Raymond Henrickson on Big Love. Mitchell was also backup as Wayne Henrickson on Big Love. The boys have now started their own band March 4th. To keep up to date with them make sure to check out their Facebook page and their Twitter!
1. How did you get started in the industry?
Mitchell: We were born on TV. (laughs) My mom and dad were in a documentary type show about giving birth to triplets. So I guess that would be our start in the industry.
Garrett: After that, we started doing commercials, we did one for Sony but it never aired and then we did Days of Our Lives.
2. What was it like working with Peter Reckell?
Garrett: He was the nicest guy! He would play with us between scenes.
Spencer: One year, he and his wife bought us each a Christmas gift. He was so cool.
Mitchell: He always made sure he came back to say Hi to me in the dressing rooms because I didn't have much time on camera working with him. He is a really cool guy!
3. How did you like working with Kristian Alfonso?
Spencer: She was very nice and always friendly. So much fun to work with.
Garrett: I would call her Hope-Mommy off camera, I never really knew her real name, because my mom didn't want me to get confused when we were on camera. She is a really great actor and a really nice person. She has a son about the same age as us, so when we were into cars, or games, she would know about the same toys and play them with us!
4. What was it like working with Bill Paxton?
Garrett: He was really cool! I was talking to him one time in the craft service truck (my favorite place) when we first started the show and I told him that I loved watching him in TheThunderbirds and he quoted a line from it; "Thunderbirds are go!" That was cool!
Spencer: He was always cracking jokes. We would always be laughing with him on set.
5. Do you prefer doing covers of songs or writing your own music?
Mitchell, Garrett, Spencer: We like writing our own music because it's a way to talk to people and feel connected. It is the best feeling watching people singing your lyrics back to you. We do cover song videos to bring the audience to our youtube site so they hopefully will see our original music.
6. What has it been like to be a part of Ryan Seacrest's Wrecking Ball contest?
Spencer: It's been crazy. We are so excited and grateful to be part of the competition. We made it to the top 10 best covers of Wrecking Ball! We didn't make the semi-finals but we were very proud of making it that far!
7. What was it like dressing up for the Shoe Crew Halloween event? Who decided your theme?
Mitchell: It was so much fun to make our costumes! Spencer decided our theme. A couple months before Halloween he decided he wanted to build an Iron Man costume and we all thought it would be fun to go as the Avengers. Lynnzee was Black Widow, Garrett was Captain America, I was Thor!
8. Has there been a favorite event you have performed at?
Mitchell, Garrett and Spencer: Our favorite event so far has been the Shoe Crew Event. The energy from the crowd was overwhelming. We all had so much fun. It's an experience we will never forget!
9. How do you enjoy working alongside your older sister?
Garrett: Once in a while she can get cranky and demanding, but we are used to it! (laughs) She is a really good singer and we are happy to have her as the lead singer!
Mitchell: We can all be complete honest with each other about ideas for songs and lyrics. In other bands you have to hold back and fear hurting someones's feelings. But the good thing about a family band is that it won't change our relationships at the end of the day.
10. What has been your favorite song you've worked on?
Mitchell: My favorite cover that we have done is "Still Into You" by Paramore. It is one of my favorite Paramore songs and fun to play!
Garrett: My favorite original song is "Breakthrough". I wrote the rap section of the song so I am really proud of it. It also has a really great message.
Spencer: My favorite original song that we have done is "Young at Heart." It is such a feel-good song and my favorite to perform live.
Anything else you'd like to add?
We really miss all our Days of Our Lives cast, crew and fans! Please keep touch with us on our social media sites! All links to facebook, twitter, youtube sites are on our website: www.march4thmusic.com
Thanks for asking us all the questions Star Kids!
Happy Holidays, Spencer, Garrett and Mitchell Fraye
We'd like to thank Spencer, Garrett and Mitchell for participating in this year's Holiday Q&A Event!