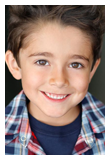 Nicolas Bechtel plays the role of Spencer on General Hospital. He can also be seen on Good Luck Charlie, The Goodwin Games and his show Rake will be airing in January. To keep up to date make sure to keep checking back at the site.
1. How did you get started in the industry?
I have always been outgoing even as a young child. People would always say "this kid belongs on TV'…one day my parents finally realized that people were on to something
2. What was it like working on Days of Our Lives and with James Scott?
James Scott was very nice. It wasn't until I worked with him in DOOL that I realized how HARD daytime television actors work.
3. What was the shoot like for your AT&T commercial?
AT&T didn't feel like work at all. It took the least amount of time of any of the commercials I have filmed.
4. What is it like working with Tyler Christopher?
Tyler is a great TV dad. He was coming back to GH about the same time as I was cast. We get along well
5. How do you like working with the other kids on GH?
I love Michael (Cameron) and Brooklyn (Emma). They feel like real-life friends. We have LOTS of fun working together.
6. What has the experience been like so far working on General Hospital?
GH has been great. Everyone is soooo nice. Everyone has been so welcoming. Frank has been awesome, he's a cool boss! Britt, Emma and Nik (my TV dad) and my Grandma Laura are my favorites but I love everyone.
7. How have you been enjoying working on Rake so far?
Rake has been awesome!!! I think it's going to be a great show. Greg Kinnear is such an amazing actor. I always look forward to working on Rake. And, they have the best snacks!!! (You rock, Teddy!!!)
8. What has been your most memorable scene you've shot for GH?
My most memorable scene from GH was when I was trick or treating and Faison answered and scared me half to death. I had to prepare myself before each take even though I knew it was coming. LOL.
9. Outside of GH what has been your favorite project to work on?
My favorite project so far has been Rake because everyone is working so hard to put together a great show. I love my family on the show. My Mom, Necar Zadegan. My dad, John Ortiz and my siblings, Jenna Ortega (Love you, Jenna!!!!) and Emjay Anthony
Is there anything else you would like to add?
I LOVE WWE and my family. I know how hard my parents and my sister sacrifice to help me pursue a career in acting. God has given me a gift and I am grateful!!!!!
****** Thank you Star Kidz and Happy Holidays
We'd like to thank Nicolas for participating in this year's Holiday Q&A Event!