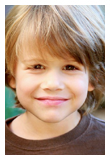 Jadon Wells currently portrays Joey Johnson on Days of Our Lives. He has been seen in numerous commercials for Pennzoil and IHOP as well as the show Wedding Band, an upcoming episode of See Dad Run, and a few pilots. He also recently shot the film Divorce Invitation. To keep updated on Jadon, continue to check back here.
1. How did you get started in the industry?
Me and my mom did a commercial together.
2. What was your first booking?
Johnson and Johnson Lavender Baby Wash commercial.
3. How did you feel when you learned you were cast on Days of Our Lives?
I felt very excited!
4. What was the first day on set like?
Well, I was kind of shy, but then I made friends with everyone.
5. How did you enjoy working with all the other kids?
I made friends with some of them.
6. Do you have a favorite commercial you've done?
When my Daddy and I did a Penzoil commercial together and got to work on an old car.
7. What was your favorite part of filming Wedding Band?
Jumping on the couch.
8. What is one of the funniest things to happen on set for one of your projects?
When we got to have a food fight on the pilot "Family Style" and no one wanted to stop!
9. Who have been some of your favorite people in the industry to work with so far?
My Daddy.
10. Outside of Days of Our Lives, do you have an overall favorite project to have done so far?
A pilot called "The Assistants" because I got to ride in the golf cart and play Candyland with Heather Locklear!
We'd like to thank Jadon and his family for participating in this year's Holiday Q&A event!