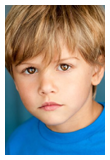 Jadon Wells plays Joey Johnson on Days of Our Lives. He appeared in the Christmas episodes last year and will appear again for Christmas this year. He was also seen this year in the final season of Showtime's Dexter as well as an episode of See Dad Run and a few commercials. Tonight, Jadon will guest star on CSI: Crime Scene Investigation on CBS at 10/9 central. You can keep up to date by following Jadon on Twitter or by checking back here!
1. What was the best part about filming CSI?
Meeting new people.
2. How did you enjoy filming Home and Family with your Dad?
It was the best! It was so fun!
3. What is the experience like filming for Days of Our Lives?
It's really fun, there were lots of kids.
4. How did you like working on Dexter?
It was so fun, it was the best thing ever!!! The funnest thing was hanging out with Asanio in his craft service trailer. I also liked learning the different lines each episode.
5. What was the premiere like? Were you nervous walking the red carpet?
Yeah, I was really nervous. It was cool to see everyone though!
6. What was it like filming with Michael C. Hall?
He was really shy, but he was funny. We talked a lot about Harry Potter.
7. How did you enjoy working with Jennifer Carpenter?
She said really bad words, but she had to. I liked to play Legos with her in her trailer, and we played kick ball on the beach.
8. Is there anyone you didn't get a chance to work with on Dexter but would have liked to?
I wanted to work with Saxon, the bad guy!
9. Any funny stories from the Dexter set?
I was sitting in the back of the car and Michael had to shut the door and say his line. Sometimes they would forget I was in the car when they yelled cut! And then, Michael kept forgetting his line and when he opened the car door I told him what it was!
10. What has been your favorite project to work on this year?
CSI because I just did it!
We'd like to thank Jadon and his family for participating in this year's Holiday Q&A Event!