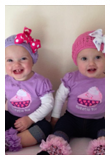 Harper and Sydnee play the role of Arianna Grace Horton on Days of Our Lives. The girls have been having a fantastic time working with the cast and crew, and have also appeared in an episode of The New Normal. To keep up to date make sure to keep checking back here at the site.
1. How did the girls get started in the industry?
It was by chance and timing. The girls aunt, Amber Ankowski, who has a three year old daughter that had done some print work, wanted to take a picture of the twins and send them in to her agent to see what might happen. After a phone call and an email, they had a small spot in an episode of the New Normal. And within a week of that, and another phone call, email and quick 'audition', they landed Days.
2. What was the day on set like for filming The New Normal?
They shot two days, one on set in the studio and one day at a park in Hollywood. This was our first time and we didn't know what to expect so we were a little nervous. Things moved very fast and there were people everywhere. The crew was very pleasant and the set teachers guided us every step of the way. It was a good experience considering we had nothing to compare it to. On the second day, our mom got in on the act as she was asked to be a body double. Pretty cool.
3. What is it like to be part of a major storyline on a soap?
In all fairness, it's sort of surreal. The history of the show and wide spread popularity of Days and the fact that it has stood the test of time being on air for so long truly makes the entire experience something to cherish. We are very humble and grateful for the opportunity to be a part of history and to work with such incredible people, cast and crew included.
4. How did Harper and Sydnee like working with Chandler Massey?
Both girls really got comfortable and developed a good relationship with Chandler. With them being so young when they started, we weren't sure if they would take a liking to him or not. It didn't take very long for Chandler to win them over. He would spend extra time with them outside the studio to help develop that bond with them and it really showed on camera. Chandler is a genuine, classy guy with a big heart. One of the nicest, guys we have ever met. It was tough to see him go.
5. What is the best part about working with Camila Banus?
There is no one best part. She is an amazing person to be around and work with. She has tremendous chemistry with the girls, always making them smile and laugh and the girls feel very comfortable in her arms. She has the natural instincts of a mom and we are very lucky to know such a great person. And she is a great actress!
6. What is it like working with Freddie Smith?
Absolutely great. Another tremendous individual. We have to group him in with Chandler and Camila, with all three of them truly taking an interest in the babies, on and off the set. All three were able to develop the chemistry so the babies felt comfortable with them on the set. Freddie is a great guy and a great actor. We enjoy our time with him.
7. How do the girls like working with the other kids on the show?
Since we have two older girls at home, Emily who is 8 and Abigail who is 10, the babies like being around other kids. The other kids love talking and playing with the girls. In the hallway is where most interactions happen and it's always fun to see them interact and take pictures together.
8. Can any of the cast members tell the girls apart?
Not really. There are times when people do get it right, but that might be around 50% of the time. It's almost become a game with the other cast and crew, they're always coming up and trying to guess who is who. Especially the wardrobe team. It's rather comical. If anyone gets it right the most, it's Camila and the set teacher Bobbi Ross. Them along with Chandler were pretty good with that.
9. Is there anyone on set you'd like the girls to work with, but haven't yet?
Well, everyone is so nice and accepting us as part of the family, any cast would be an honor. To put one or two at the top of that list, maybe Joe Mascolo or John Aniston, or maybe Greg Vaughn. The wise grandpa, the villain and the priest!
10. What has been your favorite episode Harper and Sydnee have done so far?
That would have to be the Christmas episode. It's a great time of the year and it was a real treat to experience Christmas in Salem with all the great people of the show. The atmosphere on set was really great and everyone just loves getting in the spirit of the season. Plus, credit to awesome wardrobe team, the babies were dressed in an amazing outfit.
Is there anything else you would like to add?
Not much other than we are so blessed and always thankful to be a part of such a wonderful, historic show.
We'd like to thank Harper, Sydnee, and their family for participating in this year's Holiday Q&A Event!