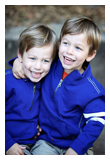 Luke and Evan Kruntchev play Parker on Days Of Our Lives. The boys were also regulars on Dexter for 3 seasons and regulars in the first season of Last Man Standing. To keep up to date make sure to keep checking back at the site.
1. How did the boys get started in the industry?
We joined the Moms of Multiples club when we moved to San Diego and an agent had emailed the group looking for identical twins to represent.
2. What was the best part about filming Dexter?
Luke and Evan worked on the show for 3 seasons so they got to know the cast and crew and felt very comfortable there. When not on set, the boys loved riding around in the golf carts.
3. How did Luke and Evan like working with Michael C. Hall?
The boys enjoyed working with Michael and he was great with them. Working with toddlers can be unpredictable, but Michael was able to improvise the scenes with them and there were lots of sweet father and son moments.
4. What was it like working with Jennifer Carpenter?
Jennifer was great – very natural with the boys. She was always taking them to see Dexter's boat and coming by our trailer to say hello.
5. How different is to film a project like DOOL vs Dexter?
The greatest difference between the two shows is that DOOL often films 2 episodes per day whereas Dexter films 1 episode over an 8-day period. Any scene that the boys were in at Dexter would be shot and re-shot a number of times, but at DOOL it's 1-2 takes per scene.
6. What is it like working with Shawn Christian?
The boys adore 'Mr. Shawn'. They have worked with him now for 14 months so they feel very comfortable with him and it's evident in their scenes together on the show.
7. Do the boys miss having their "mom" Nadia on set?
The boys do miss Nadia – I keep telling them that she is on vacation.
8. How do Luke and Evan like working with the other kids on set at Days?
They love seeing other kids on set. For the Thanksgiving episode they got to work with most of the kids at DOOL and they had a blast.
9. Is there a cast member they haven't worked with yet that you hope they get a chance to?
Everyone at DOOL is great so if they had the opportunity to work with another actor I'm sure they would enjoy it.
10. What has been your favorite scene Luke and Evan have done for Days of Our Lives so far?
There was a scene with Shawn and Evan in Horton Square that aired back in March which was my favorite. Shawn was explaining to Evan that he was sorry he hadn't seen him much and how he was never going to let him down. Evan ad libbed 'because you love me' and the two of them hugged.
We'd like to thank Luke and Evan and their Family for participating in this year's Holiday Q&A Event!