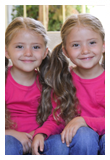 Elizabeth and Mariam Tovey played Sydney Dimera on Days Of Our Lives. The girls were also seen in shows including The Unit, Heroes and the movie The Hangover. This past year the girls 2nd movie The Nightmare Nanny aired on Lifetime. To keep up to date on them make sure to check out their official website Tovey-Kids.com
1. What was your (Mariam) shoot for H&M like?
I enjoyed so much. I loved playing around in that bedroom it felt so comfortable.
2. How did you like filming scenes with Nadia Bjorlin for Days of Our Lives?
We didn't have a lot of scenes filmed with her, but we enjoyed seeing her behind the scenes.
3. How did you enjoy filming The Nightmare Nanny?
It was a great experience working on the Nightmare Nanny. We had very much fun being on set specially that all was so awesome and loving. It is important for us to work with loving environment so we felt like we are among family.
4. What was it like working with Ashley Scott?
Ashley is the sweetest star we worked with. Ashley is very beautiful and very loving. We loved working with her. On the break we would visit her trailer. Also we became friends with her daughter Aida. Ashley got us 2 books as a gift.
5. What was filming with Kip Pardue like?
Kip Pardue was our daddy in the Nightmare Nanny.
6. How did you enjoy working with Mekenna Melvin?
Mekenna is a great actress. We loved working with her.
7. What was the best part of working with Nathan Parsons?
Working with Nathan Parson was ok enjoyable. We didn't have a lot of scenes with him.
8. Do you ever get to look back at old episodes of yourselves on Days?
Actually our Grandmother and our Aunt are visiting us from Michigan and we were watching together some episodes from Days.
9. What is one of the funniest things to happen on set at Days?
One day they gave us a skirt to wear for the scene and the moment we were leaving to the set our skirt fell of the elastic was loose for some reason so mommy had to call the wardrobe so they can fix our skirt. So they had to wait for us.
10. Do you have a favorite scene they filmed for The Nightmare Nanny?
Yes the scene we were going to meet again with mommy Ashley and daddy Kip after being kidnapped. Also filming at the park was fun. Who doesn't enjoy the park :-)?
Anything else you'd like to add?
We would like to thank Heaven and Lisa in Star Kidz that they work hard to connect us with you all. Also we would like to say to all our fans that we love you very much and we love your questions. Merry Christmas everyone. You can visit our Facebook Fan Page Tovey Twins as well as our official website.
We'd like to thank Elizabeth and Mariam for participating in this year's Holiday Q&A Event!