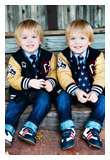 Anton and Preston LeBlanc played the role of Parker on Days of Our Lives. They've appeared on Torchwood, and the boys recently filmed a commercial for Latuda! To keep up to date make sure to keep checking back here at the site!
1. How did the boys get started in the industry?
The boys started in the industry through a local Moms of Multiples club. They sent out a request for twins that matched the boys' look, so once they were over six months old we thought why not give it a try? They auditioned for True Blood but didn't get the role, but immediately after they landed the role of Parker on DOOL.
2. What was it like to be part of a soap like DOOL?
The DOOL experience was really fun. That was our first foray into the industry, so we didn't know any different. Everyone on set was super friendly. Soaps are interesting because they have so much filming to do each day, they don't do multiple retakes. It's quite rushed when we're actually on set, and the filming is really quick. It was nice having our own dressing room, which was great with babies who needed feeding and changing constantly.
3. How did you react when you found out Anton and Preston booked the role?
We were pretty excited when the boys booked the role on DOOL. Of course, we had no idea what to expect!
4. What was it like working with Nadia Bjorlin?
Nadia Bjorlin is so sweet and friendly in person. She was wonderful with the boys and even invited one on her lap while getting her makeup done!
5. How did the boys enjoy working with Molly Burnett?
Molly Burnett was really kind and gentle with the boys too. We spent more time with Nadia so I feel like we got to know her a bit better.
6. What was the first day on set like?
The first day on the DOOL set was a little overwhelming, just because I was arriving with two seven month olds and what felt like a household of stuff, including a massive nursing pillow…And I'd never been on a set before so had no idea what to expect. Having said that, everyone was helpful and welcoming and we had no issues getting settled! Everything about the DOOL experience was pretty easy I've realized, as now we've experienced some other things and can compare.
7. How did you react to seeing the boys in the soap magazines for the first time?
We never actually saw the boys in any soap magazines! I wonder if we missed them?
8. What was the shoot like for their Latuda commercial?
The Latuda commercial shoot was really fun. It started very early in the morning north of LA, and it was super cold! Everyone was very friendly and it was great filming on location. The second part of the shoot was on the beach, and it was so windy and cold even though it was a very sunny day. So it was interesting dealing with the weather in southern California, where people think it's always comfortable, sunny, and warm. The boys loved the actor who played their dad, as they played with him a lot during the fitting earlier that week. When the day of filming was done, we were all walking across the beach back to the trailers, and the boys were actually calling his name to wait for them. He ended up walking the entire way back with them, swinging them in the air and playing with them. It was really sweet. That day, we really got to see part of what goes into making a commercial and how intense it must be working on that side of the industry.
9. What is one of the funniest things to happen on set?
A bit lame, but I can't think of anything funny! Something surprising that happened was when the boys were on an episode of Torchwood and they asked me to play a really sick person in the scene, so I could be close to the boys! I was sitting on the floor pretending to be very ill, meanwhile my son is standing, crying, and screaming in a hospital bed above me! Not sure that qualifies as funny, but it was humorous after the fact.
10. Do you have a favorite scene they did for Days of Our Lives?
Favourite scene: I haven't rewatched their scenes in quite some time, but there is one scene in particular I remember. Philip was holding Parker while talking to Victor. Victor was saying something mean about Chloe, and Parker (my Preston) had the perfect expression on his face, almost saying, 'Don't you talk about my mom that way!' He was only about eight months old at the time, so it was pretty awesome. We laughed when we saw the episode.
Is there anything else you would like to add?
I grew up in Canada, in Toronto, actually. I find people here in California are a little more nonchalant about the whole acting thing, because so many have either done it themselves, or family/friends are/have been in the industry, etc. They're just so close to it here. While there's a lot of filming happening in Toronto in more recent years, I feel like we didn't grow up around this industry. So for me, even though I'm not the starstruck type and never had any aspirations of acting or anything, going on the sets and being behind the scenes is pretty cool, not because I'm a big fan and want to meet the actors, but the whole thing is a really fun experience. It's also great to post on Facebook about it for friends and family back home, who get a real kick out of it. Who moves to California and actually gets to do this stuff? Very random and unexpected for us, so even though the overall life of frantic emails and rushing to auditions is not nearly as glamorous as people want to believe it to be, I try to enjoy the experience of it. The boys' agency is really good about reminding us to just have fun with it all too 🙂
We'd like to thank Anton, Preston, and their family for participating in this year's Holiday Q&A Event!