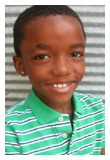 Amyrh Harris played Theo on Days of Our Lives in 2007. In the past couple of years, Amyrh has been quite busy on various sets ranging from print with Nike, to shooting an episode of the upcoming show Believe to working on the sets of movies such as Black Nativity, Annie and Staten Island Summer. Amyrh also performs his music. You can keep up to date by liking Amyrh on Facebook or by checking back here!
1. How did you get started in the industry?
My mom is an actress, singer and producer so I guess I was born into it. But I was officially discovered in a 99 cent store by my first agent Piper Dellums.
2. What was it like working with James Reynolds?
Honestly I don't really remember everything. I just know he was very nice.
3. Do you have any funny stories from anything you've worked on?
While working on set on 'Staten Island Summer', I jumped off a 12ft diving board and I fell into belly flop in front of everybody. It hurt soo bad!
4. How do you enjoy performing your music for people?
I love performing my music because its fun, I love dancing and meeting new people.
5. What was your favorite part of shooting Team Umizoomi?
I made some great new friends and got to work with a green screen for the first time.
6. What was it like filming Believe?
Not too fun because it was a very long day, I have to wear a patients gown and hold hands with other kids. The best part was watching film the fighting scene with breakaway glass.
7. What was the best part of filming your Disney XD commercial?
Well the project was called 'Laugh your Butt Off' that explained most of the day. Also great working with one of my best friends.
8. How did you enjoy shooting for Nike?
Awesome!!! I got to go to California and have fun. We shot some amazing pictures, I got to work with a trampoline and all types of cool paints and graphics. Not to mention, I got do cool nike stuff.
9. Who have been some of your favorite people to work with?
50 cent was best! Will Ferrell, Jackson Nichol, Quvenzhane Wallis and Flavor Flav cool too!
10. What has been your favorite project to work on?
Annie because there was soo many kids and we had soo much fun! Staten Island Summer was great too because I got hang out in the pool everyday all day and had my speaking role in a major film.
Thank you so much for all your support over the years!
Amyrh Harris
We'd like to thank Amyrh for participating in this year's Holiday Q&A Event!