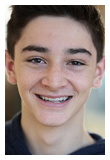 Aaron Refvem played the role of Morgan Corinthos on General Hospital. His recent projects include Shake It Up and multiple short films. To keep up to date make sure to follow Aaron on Twitter!
1. How did you get started in the industry?
I got started in the industry from a radio advertisement that had asked if you were interested to be on TV or in movies and it sounded very cool.
2. What is your favorite thing about doing stand up comedy?
Making people laugh. I love to catch them offguard.
3. How did you enjoy filming Shake It Up?
It was super fun filming with the kids on Shake It Up. They were great to work with and I had fun with my role
4. What was the experience like working on Black Sugar?
Black Sugar was different because there was so much green screen that we worked with. It was fun being on a harness and flying around too. It's a little more challenging working with green screen because there's nothing around you to help you trigger the right thoughts
5. What do you like best about doing live theatre?
The energy on stage is amazing and its really dynamic
6. Have you been able to incorporate your singing in any of your recent projects?
I've been writing and producing lots of songs these days in my home studio. I haven't actually bridged into having my music be in any of the productions but I would love for that to happen at some point!
7. What was it like working with Drew Garrett?
Drew was a great guy work with he was super fun. We would hang out now and then when we had a break
8. How did you enjoy working with Dominic Zamprogna?
Dominic was super cool and we would play some video games when we had a break sometimes
9. Do you have any funny set stories from GH?
None I can think of at the moment
10. What has been your favorite project to work on since GH?
I think probably CSI New York. And Black Sugar was really fun too
Is there anything else you would like to add?
You can check out some of my recent music on SoundCloud under Aaron Refvem
We'd like to thank Aaron for participating in this year's Holiday Q&A Event!