Q&A is not to be duplicated elsewhere and claimed as their own.
STAR-KIDZ EXCLUSIVES
Terrell Ransom Jr. has portrayed "Theo Carver" on Days of our Lives since May 20, 2008. He has appeared in a little over 40 episodes and in the past several months has gotten tons of other work including two movies, many commercials and some guest spots on tv.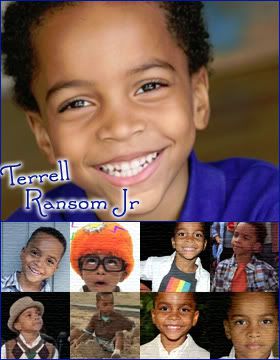 1. What does Terrell think about all his work he does for others?
Terrell: It feels really good to know that what I'm doing is helping somebody else. Like when I help my mom at home or kids with autism. I also want to be an example to other kids so they can help people in need too.
Mom: He's just beginning and my hope is that he continues to support causes, give back and help out in the community. He's young, but I'm teaching him that this is his responsibility as a regular person and as an actor. His role on Days of Our Lives and everything we learned about Autism made it very easy to get involved. We will continue to support their cause through fundraising efforts and spreading awareness.
Earlier this year, Terrell learned about Jaylen's Challenge, an organization started by a special little boy that was just like him. He wanted to help. We learned that Jaylen Arnold (now affectionately known as Terrell's big "brother") suffers from Tourette Syndrome and his vision behind the "Bullying No Way" campaign is to "spread the word and teach people to help…not bully".
2. TJ seems to be all over our television screens lately, do any of his jobs ever conflict with each other?
Mom: Yes, Terrell has had conflicts and he's actually lost a few jobs as a result of a schedule/shoot date conflict. But it's a part of the industry business. Terrell may get a little disappointed but he also understands that things like that happen in the industry.
3. How did TJ like appearing at the Days of Days event?
Terrell: It was AMAZING! I was there the whole day this year. It was fun taking pictures, talking with the interviewers and hanging with my TV parents Mrs. Renee (Lexie) and Mr. James (Abe). I loved the fans and the screams and of course walking the red carpet! I also got to sing Happy Birthday to Days of Our Lives at the end. That was the best!
4. How does TJ like working with Lauren (Boles, Ciara)?
Terrell: It's cool and really fun especially when we get time to play between scenes.
5. How did TJ like filming for The Middle?
Terrell: It was very, very, very fun! I got to work with Mrs. Patricia Heaton! Too bad I didn't get her autograph but I got a great picture with her. I also got to play cards with Atticus when we weren't taping our scene. He's cool!
6. Does TJ prefer guest spots on TV or commercials?
Terrell: I like to do all of it. It's all fun to me the TV shows, the commercials and the movies. I want to keep acting and become really great like Will Smith. Hopefully I will be able to be a great singer too.
7. How was it filming the Jay Leno Show?
Terrell: First of all, I got to see JAY LENO!!! And he actually laughed at something I said and I wasn't even telling a joke. It was funny though. We got to eat ice cream during the shoot. That was cool because you usually don't get to do that.
8. What is TJ's favorite part of acting?
Terrell: Well it's interesting to act as another character like Theo Carver and Malik Seale and not be me. The best thing about acting is I get to see myself on TV!
9. What has been TJ's favorite scene to film on Days this year?
Terrell: Probably the Christmas scene because it was a party for the kids in the hospital. We listened to a story and got to try the Christmas cookies, fruit and punch. Theo got to be Santa's helper this year and gave out presents! Hey guys, be sure to watch the Days episode on Christmas Day!
10. Is there anyone on Days TJ would like to get to work with? or work with more?
Terrell: Chloe because she's my secret girlfriend. shhhh!!!!!
11. Anything else you would like to add?
Be sure to watch out for my upcoming projects! I worked on two movies this year, a serious film The Chicago 8 and a comedy The 40 Year Old" I've also been working on a couple episodes of the cool animated kids cartoon Ni Hao Kai-lan. I'm the voice of a baby fox named Xin Xin. It's been fun working at Nickelodeon Studios doing voice-over and singing in the sound booth. Learning Mandarin Chinese for the show is so cool! "Xie Xie" (shi-e shi-e) means "Thank You"
We would like to thank the Ransom family for participating in the Star-Kidz Q&A event!